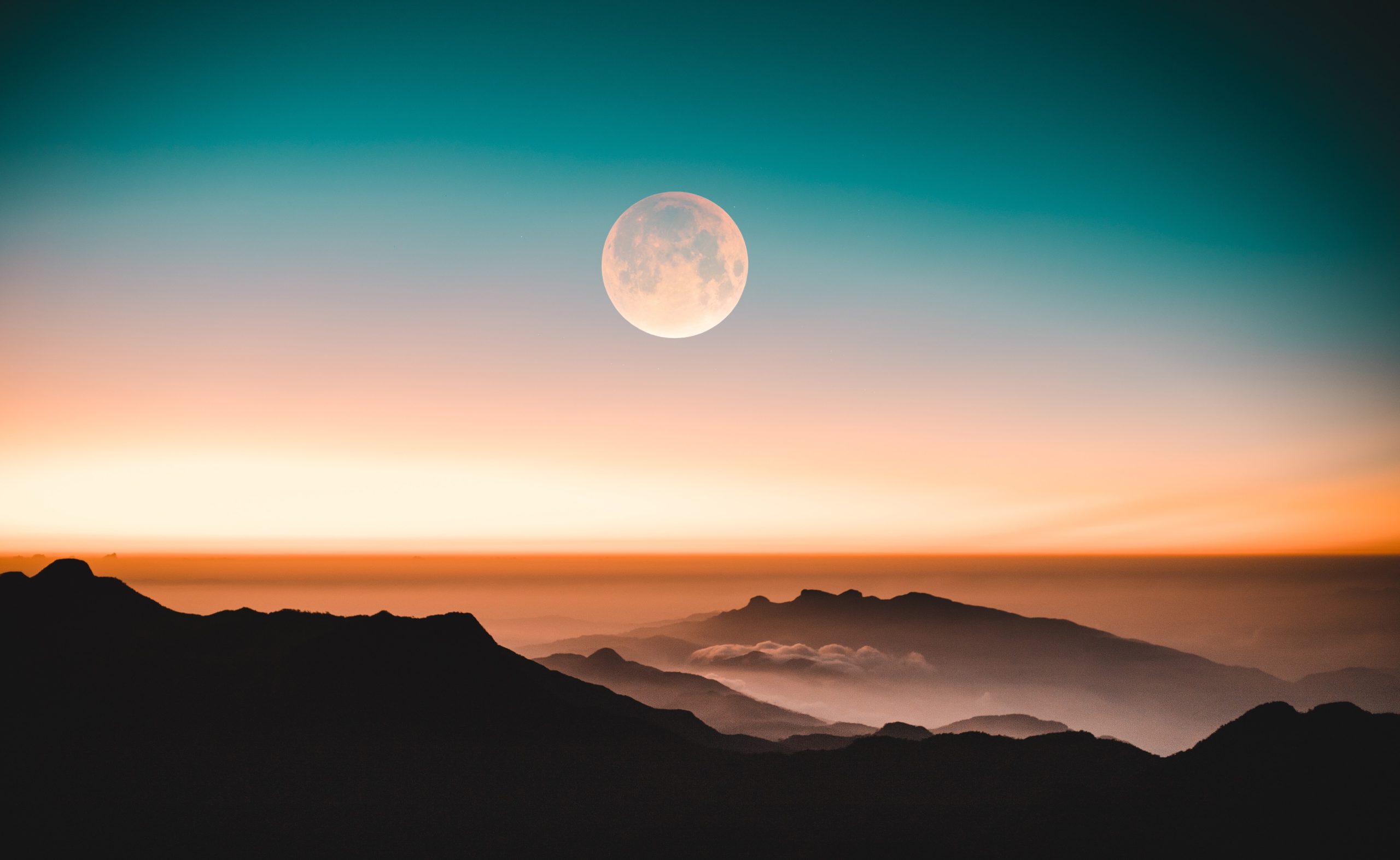 Elke maand verschuift de maan naar haar volle maan fase. In april gebeurt dit op 16 april om 20:57 uur. Volle maan is vaak een periode waarin mensen slechter slapen, zich onrustiger voelen en emotioneler zijn. Dit komt omdat de maan net als op de oceanen ook invloed op ons als mens heeft. Wij bestaan namelijk ook voor meer dan 70% uit water. In deze blog vertel ik je meer over de volle maan in weegschaal. Wat deze periode inhoud en hoe je deze periode goed door kunt komen.
Tijdens de volle maan staat de maan recht tegenover de zon die op dit moment in het sterrenbeeld Ram staat. Ram is een vuurteken. Weegschaal is een luchtteken. Ram en Weegschaal zijn daarentegen tegenpolen van elkaar.
De ram is een vurig teken, neemt zijn plek in en staat vurig voor wie hij of zij is. De weegschaal daarentegen vind het lastiger om zijn of haar plek in te nemen en houdt sneller rekening met mensen om zich heen.
Energie volle maan in weegschaal
Tijdens deze volle maan is het de uitnodiging om jouw ruimte in te nemen. Waar voel jij behoefte voor zonder beïnvloeding van buitenaf? Wat is jouw behoefte op dit moment?
Neem de ruimte om te reflecteren. Het is een mooie periode om jouw relaties onder de loep te nemen. Passen deze mensen nog bij jou? Of probeer je de boel altijd gezellig te houden wat wellicht ten koste gaat van jouw eigen energie?
Volle maan is een periode van celebration. Het vieren van successen. Maar ook een tijd van loslaten. Denk hierbij aan projecten, relaties, je baan, spullen etc. Je mag hiervoor de ruimte nemen en observeren waar je blij van wordt en wat aan je knaagt. Wat je los wilt laten, kan je loslaten in liefde.
Support in letting go tijdens volle maan
In het Moon Phase Yin Yoga E-book van Joyce Mol vind je yin yoga en journaling practices voor elke maanfase. Ook voor de volle maan. Dit e-book kan je iedere maanfase weer inzetten voor jouw reflectie momenten.
Je kunt ook de guided Full Moon Meditation & Breathing session bestellen voor deze volle maan. Deze kan je in je eigen tijd beluisteren. Een heerlijk moment voor jezelf waarin je in volledige overgave kunt loslaten. Ontspanning voor je lichaam. Diepe gronding. Werkelijk thuiskomen in jezelf.
Wil je tijdens deze volle maan dag een privé sessie ervaren? Voel je dan welkom om een privé sessie te boeken met cacao, breathwork, movement & soundhealing. Hierin integreren we ook beweging als flow of yin. Wat nodig is voor jouw persoonlijke proces. Tot 20 april heb ik plek voor live privé sessies in Alkmaar. Daarna alleen nog online.
Cacao Bliss Flow Ceremony tijdens de afnemende maan
Tijdens de afnemende maan op 22 april geven Joyce Mol en Melanie Genssler een Cacao Bliss Flow Ceremony in de studio in Alkmaar. Tijdens deze middag nemen zij je mee op een diepe innerlijke reis met Cacao & Truffles Microdosing, Breathwork, Yoga Inspired Dance & Soundhealing. Voel je welkom om deel te nemen zodat je tijdens de nieuwe maan weer volledige ruimte voelt voor nieuwe manifestaties.