De chakra's worden gezien als een energieveld door het lichaam heen. In totaal zijn er 7 chakra's vanuit de basis tot in de kruin. Wanneer er blokkades zijn in een van de chakra's is dit voelbaar in de energie. Elke chakra staat voor een specifiek energie centra en heeft zijn uitwerking in de vorm van gedrag, energie en lichaamsreactie. Je kunt specifieke oefeningen doen om de chakra's te herstellen.
In welke chakra's kun je blokkades ervaren?
Wortel Chakra
Sacrale Chakra
Solar Plexus / Zonnevlecht
Hart Chakra
Keel Chakra
Derde oog Chakra
Kruin Chakra
Hoe werkt de energie per chakra?
Wortel chakra / root chakra
De root chakra wordt ook wel gezien als de basis. Waarin je kunt gronden. Je veilig voelt en thuis kunt komen in jezelf. Disbalans in deze chakra kan zorgen dat je je all over the place voelt. Niet in alignment met je lichaam.
Sacrale chakra
Het sacrale wordt gekoppeld aan de seksuele en sensuele energie. Of ook wel de zachte feminine energie. Flow. Creativiteit. Maar ook stilte en verbinding. Methodes om deze chakra weer in balans te brengen zijn dans, flow, stilte en contact met water.
Solar plexus
De solar plexus is het energiepunt waarin de innerlijke kracht ervaren wordt. Een disbalans hierin kan zorgen dat je je enorm zwak voelt. Terwijl dit juist je stralende punt mag zijn. Er zijn diverse krachtige oefeningen die bijdragen aan het activeren van de solar plexus. In de online cursus ervaar je dit volledig. Maar ook soundhealing kan bijvoorbeeld een mooie methode zijn om blokkades weg te filteren.
Het hartchakra
Het hartchakra staat in verbinding met het leven vanuit je passie, het aantrekken van jouw tribe en in liefde met jezelf en anderen zijn. Voel je hierin disbalans. Dan kan het zijn dat je vooral mensen pleased en gaat voor de dromen van anderen in plaats van die van jezelf. Practices gericht op het hart chakra dragen bij aan het herstellen van de verbinding met jezelf.
De keel chakra
De keel chakra staat in verbinding met het uitspreken van jezelf. Is deze chakra geblokkeerd, dan kan je frustraties ervaren, geblokkeerd voelen of niet gehoord. Chanten en mantra's zingen zijn bijvoorbeeld practices die bijdragen aan het openen van deze chakra. Maar ook diverse yoga oefeningen dragen hieraan bij.
Het derde oog chakra
Het derde oog chakra staat in verbinding met je intuïtie. Wanneer je leeft vanuit je intuïtie, sta je in verbinding met je kern. Het derde oog heeft ook een diepere laag. Er kunnen visuele beelden uit voort komen. Herinneringen maar ook visioenen. Zelf ben ik visueel ingesteld en hoef ik mijn ogen maar te sluiten om kleuren en beelden te zien. Maar dit hoeft niet voor iedereen zo te zijn. Wanneer je je derde oog steeds meer gaat openen, zal je in een steeds diepere verbinding met je intuïtie komen.
De kruin chakra
De kruin chakra staat in verbinding met het grotere geheel. Het universum. Source. Wanneer je in verbinding bent met het grotere geheel, kan je werkelijk zijn.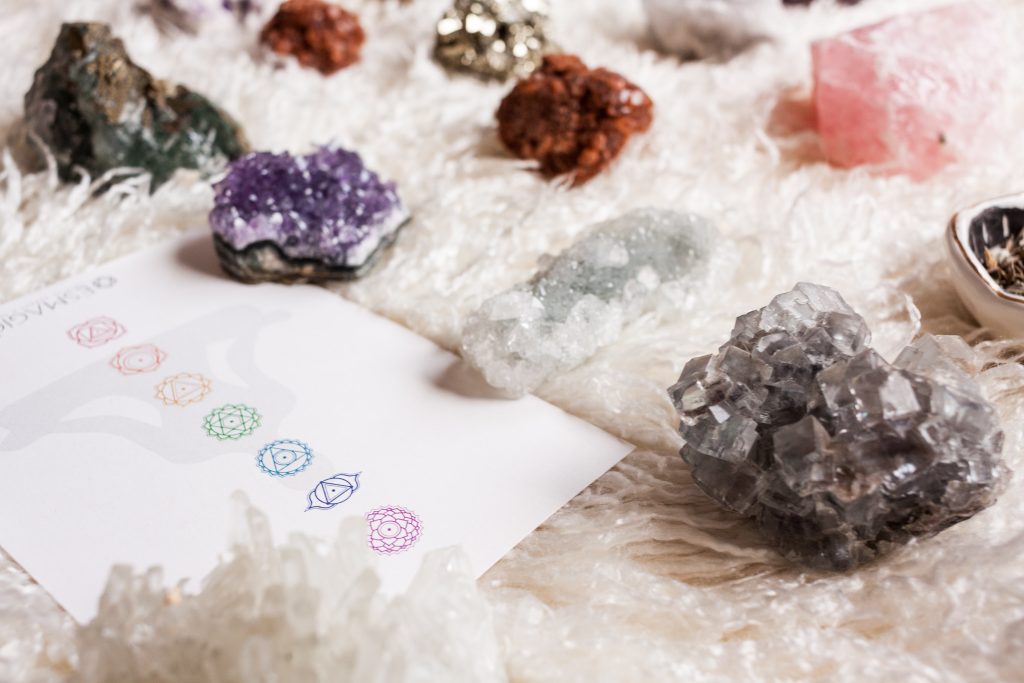 De bovenste drie chakra's zijn ontzettend belangrijk, maar kunnen ook disbalans geven als daar teveel focus op ligt. In de onderstaande cursus maken we een reis door alle 7 chakra's.
Oefeningen om de chakra's terug in balans te brengen
In de 7-weekse Chakra Balance Journey neemt Joyce je mee in 7 lessen van een uur waarin je de blokkades in de chakra's kunt herstellen. Je krijgt in de cursus onbeperkt toegang tot de oefeningen, theorie over de chakra's en methodes die je kunt inzetten om bij te dragen aan een doorstroming in het chakra-energieveld.
Meer informatie over de chakra's