Er worden in de studio in Alkmaar en buiten in de natuur diverse yoga stijlen gegeven. Elke vorm van yoga heeft zo zijn eigen benefits voor lichaam en geest. Maar hoe weet je nou welke yogastijl passend voor jou is? Een goede afwisseling van yin & yang is de optimale balans in lichaam en geest. Waarin het lichaam ontspanning geboden wordt, maar ook kracht bijgezet wordt. Je kunt dus in principe iedere les volgen. Afhankelijk waar je staat in je leven kies je vaak wel naar behoefte.
Voor herstel van lichamelijke klachten is een rustige yogavorm vaak gepast. Maar wil je meer werken aan kracht en balans, dan is een actieve vorm van yoga gepast. In herstel trajecten lichamelijk en mentaal volgt dit elkaar vaak ook op.
Vanuit stilte (ademen), naar bewegen (diepe stretches), naar mobiliteit (kracht en balans).
Wil je echt verschil gaan merken bij jezelf, in flexibiliteit, kracht, balans en stabiliteit, dan is een dedicated practice van belang. Het is hetzelfde als sporten. Als je lang niet ben geweest, begin je eigenlijk weer overnieuw.
Een dedicated practice is een moment voor jezelf in de dag of week waarin je de ruimte neemt om te ademen, met je lichaam te bewegen, kracht bij te zetten en te stretchen. Hieronder alle yoga stylen op een rij met de benefits en uitleg.
Hatha

Tijdens deze les wisselen dynamische en verstilde houdingen elkaar af. Hatha Yoga brengt innerlijke rust, ontspanning,  vermindert de stress en geeft uiteraard meer energie en kracht in het lichaam. 

Wordt op maandag avond live & online gegeven. Reserveren kan via het online lesrooster.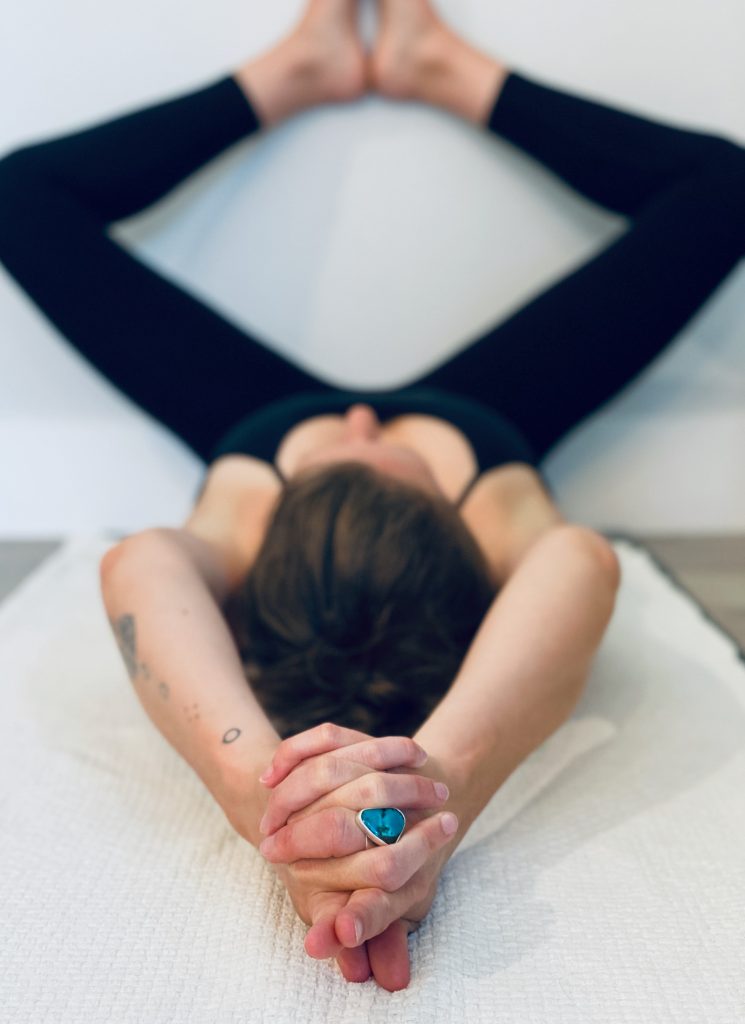 Yin Yoga
Yin Yoga is een methode waarbij stretches 3 tot 5 minuten worden aangehouden om in contact te komen met het dieper liggende bindweefsel en de fascia. Door weer te verbinden met het lichaam kun je spanningen en blokkades loslaten vanuit het bindweefsel en de spieren waardoor veelal ook lichamelijke klachten afnemen. Denk hierbij aan blessures, psychosomatische klachten en stress.
We wisselen de oefeningen af met Yin Yoga houdingen en houdingen van navoelen.
Yin Yoga helpt je om fysiek en mentaal verder te komen. Je spieren worden verlengd en pijn wordt weggenomen. Daarnaast stimuleert het jouw zenuwsysteem om in de rustfase te komen. De fight & flight mode wordt in de ruststand gebracht. Hierdoor voel je meer ruimte in je hoofd en leer je beter met emoties omgaan.
Wordt op dinsdag avond live & online gegeven. Reserveren kan via het online lesrooster.
Breathwork & yin
De Breathwork & yin lessen zijn lessen waarin we diep gewortelde emoties los laten d.m.v. ademhalingstechnieken. Hierdoor kan je klachten als angsten, hyperventilatie, paniekaanvallen en chronische pijn makkelijker loslaten en zelfs oplossen.
In deze lessen ontdek je methodes vanuit de pranayama, natural breathing, zachte yin stretches om het lichaam wat meer te openen.
Breathwork helpt om dieper te gronden in het lichaam en het zenuwstelsel te kalmeren.
Door dit te combineren met zachte yin stretches brengen we ruimte in het bindweefsel, gewrichten en spieren. Een heerlijke les om diep te ontspannen, emoties los te laten en het lichaam te helen van binnenuit met de ademhaling.
Wordt op donderdag avond live & online gegeven. Reserveren kan via het online lesrooster.
Vinyasa Flow / Open Heart & Core Flow

De vinyasa flow class is een dynamische vorm van yoga waarin we op het ritme van de ademhaling bewegen. De les is gericht op het openen van het hart, versterken van de core en het gronden in het lichaam. Hierbij is veel aandacht ook voor de release in de psoas. Ook wel de spier van de ziel genoemd. Door je hart te openen, ruimte te geven in gronding kom je dichter bij jezelf en je eigen gevoelens en emoties. Warmere dagen komen er weer aan. We verplaatsen ons ook naar het vuurelement waarin veel aandacht is voor het versterken van het lichaam, het openen van het hart en meer krachtige verdieping in het lichaam.

De vinyasa flow lessen bestaan uit oefeningen waarbij we het lichaam sterker maken en verzachten. Yin & yang komt hier samen in een fijne flow. We combineren vinyasa flows met yin yoga houdingen en breathwork waardoor we het lichaam sterker maken, maar tegelijk ook verzachting bieden. Werken aan kracht vanuit ontspanning is echt magic voor je lichaam. Je zult merken als je dit voor langere tijd consequent doet dat je lichaam gaat veranderen en je jezelf energieker gaat voelen.

Deze les wordt op woensdag en zondag ochtend gegeven op het strand in Hargen aan zee
Welke les vind jij het fijnst of wat heb jij nodig?
Neem je de tijd om deze op regelmatige basis te beoefenen? Een dedicated practice zorgt voor de optimale balans in je lichaam en geest.
Vaak is hetgeen waar je het meeste tegenop ziet juist ook wat je nodig hebt. Of waar je de meeste weerstand bij voelt, juist de uitnodiging om naar binnen te keren. Om te voelen wat dit jou te vertellen heeft.
De stilte kan soms onrustig en beangstigend aanvoelen. Maar wanneer je hier juist naar terugkeert, kom je thuis aan bij jezelf. Gun jezelf die ruimte om met jezelf te zijn. Hierdoor kom je ook in verbinding met jouw authentieke zelf en kan je meer vanuit je hart gaan leven.
Heb je vragen over welke les geschikt voor jou is? Neem gerust contact op per e-mail. Dan denken we graag met je mee.
Namasté,
Mind Events Factory